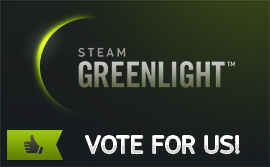 That's right people! We went on Steam Greenlight! After countless days of development we have finally got the game in good shape for Steam Greenlight!
You can find the game right here:
http://steamcommunity.com/sharedfiles/filedetails/?id=399956911
Support us by giving the game a big upvote!
I would presonally like to thank each and every one of you who supported us during this long development period!
Thanks to all of you!